Presented by Anchor Insurance & Surety, Inc.
The Most Fun You'll Have on a Golf Course!
New this year: Scramble format
Our third and final golf tournament of the year is shaping up to be an amazing day of golf! AGC members and non-members can spend a day of friendly competition with industry leaders and colleagues, and after the tournament ends, join Summer Convention attendees at the Mixology Monday Reception.
This year we're bringing a whole new level of excitement with the introduction of the notorious Country Club Adjacent heckling group as well as a new tourney format. This new format is ideal for players of every level and will include several games to test your individual skill.
As we prepare for the "Next Generation," let's take a chance to Rep your Generation at this year's tournament: we encourage you to come dressed in the golf clothes that represent your generation. We can't wait to see your plus fours or loud shirts with a groovy wide collar!
The tournament requires a separate registration from the convention, and non-members are welcome to play.
Country Club Adjacent is four stand-up comedians who have built one of the largest online communities through satire, comedy, and their viral Back Off Challenge. They have worked with everyone from former presidents to celebrities, to top professional golfers. We're pleased to welcome them to our Summer Scramble. Even if you're not playing in the tournament, you can still see them in action at the Golf Awards Press Conference during the Mixology Monday Reception.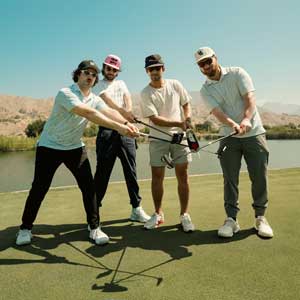 10 am: Registration Opens
11 am: Shotgun Start
4:30 pm: Awards and Cocktail Party
| | |
| --- | --- |
| Team of Four Tournament Fee | $580 |
| Single Player Tournament Fee | $150 |
| Two Mulligans (per player) | $10 |
| Hole in One Contest (per player) | $10 |
| Contest Bundle | $25 |
Golf team registration includes four players: round of golf, golf cart for two players, lunch, gift, and beverage tickets.
Mulligans can be used anywhere on the course. These might save you!
A unique tournament format that brings out a different group of our membership. Don't miss out on the opportunity to sponsor this tournament!
Please contact Viktoria Schulz if you have questions.
Emma Chinh-Ngo, Member Development and Engagement Administrative Assistant
Experience the many benefits of membership with AGC…contact us today!