AGC Safety Management Consultant – Wilsonville, Ore.
Construction Manager – Corvallis, Ore.
Maintenance Worker 4 (Locksmith) – Salem/Keizer, Ore.
Project Manager – Eagle Creek, Ore.
Bilingual Craft Instructor – Portland, Ore.
Sheet Metal Craft Instructor – Portland, Ore.
HVAC Craft Instructor – Portland, Ore.
AGC Safety Management Consultant – Wilsonville, Ore.
AGC Safety Management Consultant – Wilsonville, Ore.

This position is based in Wilsonville, Oregon, and supports the Portland-Metro and Eastern Oregon areas with the broad range of activities and responsibilities of our safety management consultation team. Responsibilities include, but are not limited to, providing fully competent professional consultative and intervention safety and loss control services to construction companies participating in a group workers' compensation insurance program, and other construction employers, as directed. The activities in this role provide support to firms in their efforts to control losses by establishing and integrating sound, practical, and effective health and safety programs and services.
Salary Range: $89,500–$126,700
Job Functions:
Visit member company offices and job sites mainly in the north and eastern Oregon region, around the Portland-Metro and eastern Oregon areas. There may be times when you cover for your peer(s) in another region of Oregon and SW Washington at the request of the director of Safety Services.
Maintain effective relationships with company principals, safety directors, jobsite supervisory personnel, and representatives from workers' compensation insurance carrier.
Provide counsel on safety issues and problems regarding state and federal administrative rules and regulations.
Analyze injury trends, assess exposures and controls, and assist companies in reduction of injuries and illnesses.
Consult with employers to recommend safety and health strategies and injury prevention methods.
Compose detailed letters and reports to policyholders to identify problems and solutions, and outline recommendations and action plans. Establish agreements and action plans.
Monitor and document the progress made in controlling losses and communicate updates to appropriate individuals.
Conduct safety training for firms and employees.
Support certain staff requirements or other functions as directed
Required Skills, Abilities, & Knowledge:
Demonstrate extensive knowledge and understanding of workplace safety; loss control theory and practice; specific to Oregon, Washington, and federal safety rules and requirements
Demonstrate working familiarity with general construction procedures and practices.
Demonstrate working knowledge of workers' compensation insurance process
Demonstrate the ability to identify occupational hazards and industrial hygiene exposures, recommend appropriate corrective action, translate loss control principles into action plans, and influence change.
Show the ability to develop and implement loss reduction strategies.
Demonstrate ready knowledge and the ability to apply safety and health approaches in a variety of construction-related industries and environments
Must be able to organize and prioritize work in a multi-task "field" environment
Must be able to professionally communicate in a clear and concise manner, both oral and written (bi-lingual Spanish is desired but not mandatory). This includes being comfortable while speaking publicly and demonstrating training competencies, and publication authorship.
Required Licenses & Certificates:
Must have a valid Oregon driver's license or the ability to obtain one within 30 days of hire
Five years of increasingly responsible safety and health or loss control experience in construction or related field
Bachelor's degree in safety, risk management, or a closely related field
CSP, ARM, CHST, PE, or CIH designation strongly desired, but not mandatory if other professional work experience demonstrates strong safety knowledge and acumen along with your work skill and abilities.
Physical Demands/Work Environment:
May require extended overnight travel to cover assigned territory or to fulfill essential work functions as directed by the safety director.
May require some early mornings or late evenings to assure effective coverage of assigned territory.
Must be able to function in a variety of construction job environments under varied weather and temperature conditions.
See full description and application information here:
09/21
Construction Manager – Corvallis, Ore.
Maintenance Worker 4 (Locksmith) – Salem/Keizer, Ore.
Project Manager – Eagle Creek, Ore.
Bilingual Craft Instructor – Portland, Ore.
Sheet Metal Craft Instructor – Portland, Ore.
HVAC Craft Instructor – Portland, Ore.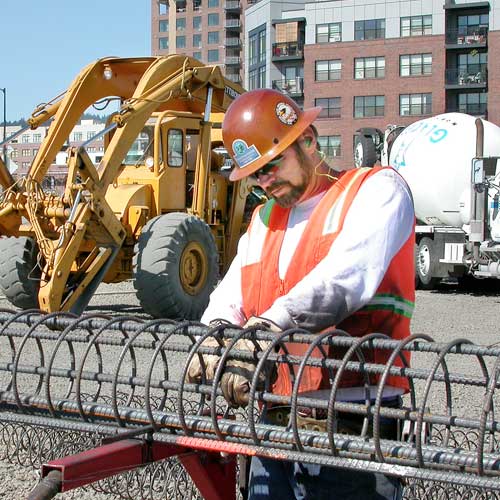 Chapter members and partnering organizations are welcome to post construction-related job openings free of charge.
Job postings must be concise and include valid contact information.
If you wish to have a position posted, please provide the following information:
Title of Position
Position Location
Description/Summary of Position
Education/Skill Requirements
Contact Person
Contact Information (fax, email, mailing address, etc.)
AGC Oregon-Columbia Chapter will not receive resumes and/or applications on behalf of member companies utilizing this service. AGC Oregon-Columbia Chapter will not perform background checks on applicants applying for jobs, nor on employers posting job opportunities. Employers and applicants are urged to request reference information from each other as needed to establish qualifications, credentials, etc. All job listings are posted at the discretion of the AGC Oregon-Columbia Chapter. Job postings that appear to discriminate against applicants due to race, color, religion, creed, age, national origin, veteran status, sexual orientation, disability or gender will be refused. AGC Oregon-Columbia Chapter makes no particular recommendations regarding employers and makes no representations or guarantees about the positions posted. The AGC Oregon-Columbia Chapter is not responsible for the safety, wages, working conditions, or any other aspect of those companies posting job opportunities on the chapter website.
The AGC Oregon-Columbia Chapter will not accept resumes/applications for any of the positions listed here. Please contact the individual member company with any questions you may have relative to the position sought.
Experience the many benefits of membership with AGC…contact us today!