Safety Coordinator – Portland, Ore.
Safety Coordinator – Portland, Ore.
For over 60 years, our family of companies have been in the business of constructing new buildings, improving existing facilities, and completing important infrastructure projects for communities throughout the Pacific Northwest. Our work improves the lives of those who live in the areas we serve. We are also proud to be known for our excellence in safety.
The Safety Coordinator partners, under the direction of the chief safety officer (CSO), with superintendents and field personnel to provide a safe work environment by establishing, supporting, and advising on safety policies for the MHA group of companies and their employees, as well as subcontractors on our jobs. The MHA group of companies is made up of MHA Resource Company (MHA), P&C Construction (P&C), Ward-Henshaw Construction (WH), and Baker-York Equipment and Supply (BYES).
Essential Functions:
Project Safety Support 
Acts as an onsite internal safety resource and presence observing safety behavior and recommending solutions to Superintendents, Foremen and crews as well as subcontractors regarding safety/health issues.
Perform weekly jobsite visit/inspection and produce safety audit reports.
Follow up on outstanding safety issues and ensure corrective actions are completed and closed. Advises CSO and Superintendent of unresolved issues.
Investigate P&C, WH and BYES and subcontractor incidents including near misses and complaints in accordance with MHA standard procedures.
Work with Safety Advisory Council to encourage front line leadership by the council members.
Report on safety matters at both P&C and WH Safety Committee Meetings.
Attend Monday morning "toolbox talks" and morning huddles to observe compliance.
Employee Development
Serves as the backup for safety related education and training and works with CSO to ensure that employees are trained on the safe practices and procedures of the company.
Ensure that required safety scores are uploaded and kept up to date.
Aid the CSO in new hire safety orientations for all employees and maintain records of included trainings and certifications.
Maintain HSI Learning record keeping as an administrator.
Aid in maintaining inventory of personal protection equipment at P&C and WH and ordering of safety related SWAG.
Safety and Risk Administration 
Ensures that safety related documentation is kept in compliance with regulations and company practices. Participates with the Chief Safety Officer in analyzing safety related statistical data and providing recommendations.
Review compliance logs as directed and work to resolve incomplete data or document collection.
Work with CSO to produce Safety Committee Agenda.
Work with BYES to complete annual fall protection equipment inspections and ensure return of equipment upon employee termination.
Perform periodic review of all Safety Procedures Manual and reports any suggested changes to CSO.
Research new and improved safety equipment and technologies and advises management as appropriate on suggested changes.
Requirements:
You may not have everything noted. Perhaps you have a strong combination of experience, technical, and academic skills in the following areas:
General knowledge of construction means and methods.
Knowledge of OSHA/WISHA rules and regulations for construction.
Working experience as a construction craft worker, site supervisor or trainee preferred.
High school diploma or equivalent is required. Some college level courses in construction or safety procedures preferred.
Great people skills a must.
Must have valid driver's license and ability to drive a car.
Able to travel to local, active jobsites. Company vehicle provided.
As our clients often require that workers be fully vaccinated, this position will require proof of full vaccination against COVID-19.
Skills/Abilities:
Bilingual in Spanish is strongly preferred.
Possess aptitude in computer use of standard format office applications and comfort with learning new applications like Viewpoint, Procore and Microsoft Office suite.
Great communication skills.
Ability to work in a team environment.
Work Environment/ Physical Demands:
This job operates in both a professional office environment and at construction jobsites. This role routinely uses standard office equipment such as computers, phones, photocopiers, and filing cabinets, and includes frequent visits to outdoor jobsites, including exposure to wet, extreme hot and cold weather conditions. The employee is regularly required to talk or hear and frequently works on rough terrain, tight quarters and with moving vehicles present. The employee must occasionally lift and/or move up to 30 pounds. Specific vision abilities required by this job include close vision, distance vision, color vision, peripheral vision, depth perception and ability to adjust focus.
Position Type/Expected Hours of Work:
This is a full-time position; days and hours of work are typically Monday through Friday, 7 am to 4 pm, with some morning and/or evening meetings as required. Pay rate DOE.
Fire Alarm Technician – Eugene, NW Ore.
Insurance Coordinator – Tualatin, Ore.
HVAC Technician – Portland, Ore.
Pavement Quality Specialist – Salem, Ore.
HVAC Craft Instructor – Portland, Ore.
Sheet Metal Craft Instructor – Portland, Ore.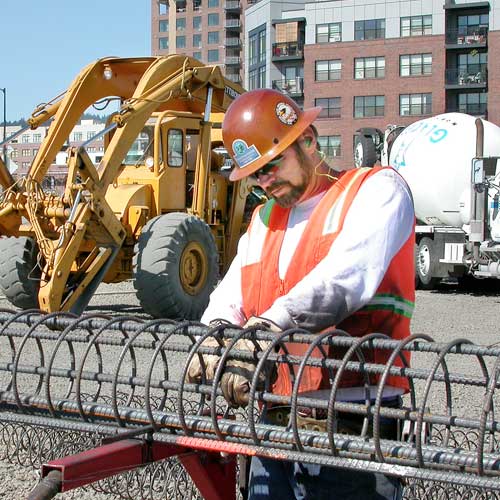 Chapter members and partnering organizations are welcome to post construction-related job openings free of charge.
Job postings must be concise and include valid contact information.
If you wish to have a position posted, please provide the following information:
Title of Position
Position Location
Description/Summary of Position
Education/Skill Requirements
Contact Person
Contact Information (fax, email, mailing address, etc.)
AGC Oregon-Columbia Chapter will not receive resumes and/or applications on behalf of member companies utilizing this service. AGC Oregon-Columbia Chapter will not perform background checks on applicants applying for jobs, nor on employers posting job opportunities. Employers and applicants are urged to request reference information from each other as needed to establish qualifications, credentials, etc. All job listings are posted at the discretion of the AGC Oregon-Columbia Chapter. Job postings that appear to discriminate against applicants due to race, color, religion, creed, age, national origin, veteran status, sexual orientation, disability or gender will be refused. AGC Oregon-Columbia Chapter makes no particular recommendations regarding employers and makes no representations or guarantees about the positions posted. The AGC Oregon-Columbia Chapter is not responsible for the safety, wages, working conditions, or any other aspect of those companies posting job opportunities on the chapter website.
The AGC Oregon-Columbia Chapter will not accept resumes/applications for any of the positions listed here. Please contact the individual member company with any questions you may have relative to the position sought.
Experience the many benefits of membership with AGC…contact us today!