Safety Management Consultant / Industrial Hygienist – Eugene, Ore.
Safety Management Consultant / Industrial Hygienist – Eugene, Ore.
Salary Range: $88,500–$121,700
Located in Eugene Oregon within the Willamette Valley area, this position supports the broad range of activities and responsibilities of our safety management consultation team. Responsibilities include, but are not limited to, providing fully competent professional consultative and intervention safety and loss control services to construction companies. Assist companies with safety and industrial hygiene in a group workers' compensation insurance program along with other construction employers, as directed. The activities in this role provide support to firms in their efforts to control losses by establishing and integrating sound, practical, and effective health and safety programs and services.
In addition to an assigned group of businesses, provide professional industrial hygiene services and consulting to AGC members in AGC's group workers' compensation insurance program for the identification, evaluation, and control of occupational health hazards in the workplace.
Job Functions:
Visit firms' offices and job sites mainly in the Willamette Valley region, around the Eugene area but may also include some throughout Oregon and SW Washington. There may be times when you cover for your peer(s) in another region of Oregon and SW Washington at the request of the Director of Safety Services.
Maintain effective relationships with firm principals, Safety Directors, jobsite supervisory personnel, and representatives from workers' compensation insurance carrier.
Provide counsel on issues and problems regarding state and federal administrative rules and regulations.
Analyze injury trends, assess exposures and controls and assist companies in reduction of injuries and illnesses.
Plan and perform industrial hygiene surveys and analyses at member worksites. Interprets, applies, and assesses compliance with Occupational Safety and Health Administration (OSHA), workers' compensation, and other applicable occupational health standards, guidelines, and industry best practices.
Consult with employers to recommend safety and health strategies and injury prevention methods.
Compose detailed letters and reports to policyholders to identify problems and solutions, and outline recommendations and action plans. Establish agreements and action plans.
Develops and provides industrial hygiene/occupational health information, publications, training materials, and presentations/programs for AGC members and internal staff as requested.
Monitor and document the progress made in controlling losses and communicate updates to appropriate individuals.
Collaborates with AGC safety management consultants and insurers' underwriting, marketing, and claims staff to assess risk in current and prospective member worksites.
Conduct safety training for firms and employees.
Performs other duties and responsibilities as required to fulfill job functions, or as assigned.
Exceptional follow-up with AGC members, both verbally and in writing.
Required Skills, Abilities, & Knowledge:
Demonstrate extensive knowledge and understanding of workplace safety; loss control theory and practice; specific to Oregon, Washington, and Federal safety rules and requirements.
Intermediate knowledge in the theory and practice of industrial hygiene, including chemistry; toxicology; developing and implementing exposure sampling strategies including air monitoring techniques and noise measurement; industrial ventilation; and equipment calibration.
Demonstrate working familiarity with general construction procedures and practices.
Demonstrate working knowledge of workers' compensation insurance process
Demonstrate the ability to identify occupational hazards and industrial hygiene exposures, recommend appropriate corrective action, translate loss control principles into action plans, and influence change.
Demonstrated working knowledge of OSHA; other governmental regulations pertaining to the industrial hygiene/occupational health disciplines and workers' compensation insurance; proficient in the use and application of the American Conference of Governmental
Industrial Hygienists (ACGIH) Threshold Limit Values (TLVs ); demonstrated ability to assess and manage complex industrial hygiene problems; and demonstrated proficiency in interpreting analytical laboratory results.
Show the ability to develop and implement loss reduction strategies.
Demonstrate ready knowledge and the ability to apply safety and health approaches in a variety of construction-related industries and environments.
Must be able to organize and prioritize work in a multi-task "field" environment.
Must be able to professionally communicate in a clear and concise manner, both oral and written (bi-lingual Spanish is desired but not mandatory). This includes being comfortable while speaking publicly and demonstrating training competencies, and publication authorship.
Required Licenses & Certificates:
Must have a valid Oregon driver's license or the ability to obtain one within 30 days of hire.
Five years of increasingly responsible safety and health, industrial hygiene or loss control experience in construction or related field.
Bachelors' degree in safety, risk management, environmental science or a closely related field.
CSP, ARM, CHST, PE, or CIH designation strongly desired, but not mandatory if other professional work experience demonstrates strong safety knowledge and acumen along with your work skill and abilities. Certification may be required to be obtained within one year.
Physical demands/Work Environment:
May require extended overnight travel to cover assigned territory or to fulfill essential work functions as directed by the Safety Director.
May require some early mornings or late evenings to assure effective coverage of assigned territory.
Must be able to function in a variety of construction job environments under varied weather and temperature conditions.
Requires walking over uneven terrain and around physical obstacles or climbing temporary ramps and ladders.
Must be able to lift and carry moderately weighted articles (i.e., loading and unloading equipment from work vehicles) up to 50 pounds.
Must be able to properly wear and use the appropriate personal protective equipment depending on the specific environment you are visiting.
Must be able to effectively communicate with others verbally, in-person, over the phone, or any computer virtual platform.
AGC provides equal employment opportunities to all employees and applicants for employment and prohibits discrimination and harassment of any type without regard to race, color, religion, age, sex, national origin, disability status, genetics, protected veteran status, sexual orientation, gender identity or expression, or any other characteristic protected by federal, state, or local laws.
This policy applies to all terms and conditions of employment, including recruiting, hiring, placement, promotion, termination, layoff, recall, transfer, leaves of absence, compensation, and training. A formal job offer is not to be considered a contract or definitive offer of employment until all pre-employment expectations and requirements are met.
Send resumes to Brent Babcock.
Admission and Apprenticeship Assistant – Portland, Ore.
Survey Technician – 3D Scanning – Tigard, Ore.
Project Manager – Industrial Measurement Division – Tigard, Ore.
Instrument Person – Level 1 – Tigard, Ore.
Instrument Person – Level 2 – Tigard, Ore.
Project Manager – Heavy Construction – Tigard, Ore.
Project Surveyor – Development Department – Tigard, Ore.
Field Safety Coordinator – Tualatin, Ore.
Superintendent – Tualatin, Ore.
Project Manager – Tualatin, Ore.
Project Engineer – Tualatin, Ore.
Sheet Metal Craft Instructor – Portland, Ore.
HVAC Craft Instructor – Portland, Ore.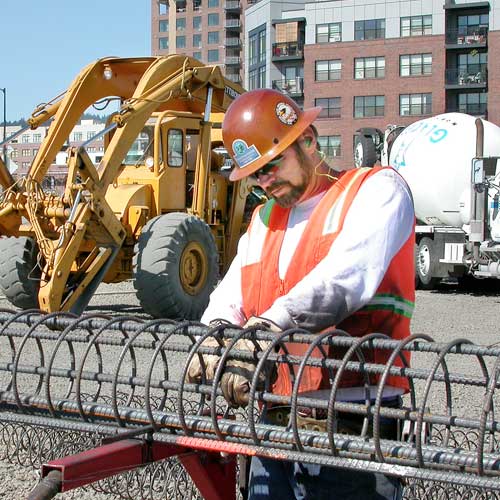 Chapter members and partnering organizations are welcome to post construction-related job openings free of charge.
Job postings must be concise and include valid contact information.
If you wish to have a position posted, please provide the following information:
Title of Position
Position Location
Description/Summary of Position
Education/Skill Requirements
Contact Person
Contact Information (fax, email, mailing address, etc.)
AGC Oregon-Columbia Chapter will not receive resumes and/or applications on behalf of member companies utilizing this service. AGC Oregon-Columbia Chapter will not perform background checks on applicants applying for jobs, nor on employers posting job opportunities. Employers and applicants are urged to request reference information from each other as needed to establish qualifications, credentials, etc. All job listings are posted at the discretion of the AGC Oregon-Columbia Chapter. Job postings that appear to discriminate against applicants due to race, color, religion, creed, age, national origin, veteran status, sexual orientation, disability or gender will be refused. AGC Oregon-Columbia Chapter makes no particular recommendations regarding employers and makes no representations or guarantees about the positions posted. The AGC Oregon-Columbia Chapter is not responsible for the safety, wages, working conditions, or any other aspect of those companies posting job opportunities on the chapter website.
The AGC Oregon-Columbia Chapter will not accept resumes/applications for any of the positions listed here. Please contact the individual member company with any questions you may have relative to the position sought.
Experience the many benefits of membership with AGC…contact us today!