Restoration Estimator – Tigard, Ore.
Restoration Estimator – Tigard, Ore.
Portland Construction Solutions, which renovates residential properties after water damage, fires, natural disasters, and vehicle collisions, is hiring an Estimator to initiate build-back projects in the Portland/Vancouver area.
Duties:
This is a weekday position – NEVER ON CALL!
Supervises residential renovation projects after any water damage has been mitigated and insurance estimates have been approved.
Ensures that construction complies with building codes.
Complies with insurance industry and Third Party Administrator requirements.
Assembles, schedules and coordinates resources, including subcontractors, in-house field staff, materials, supplies, equipment, and tools.
Computes project costs by analyzing labor and material requirements. Maintain solid profit margins.
Provides daily direction and support to the carpentry team. Provide disciplinary action, incentives and commendations.
Monitors and reports on project progress, problems and solutions to customers and management.
Requirements:
3+ years of renovation knowledge as an estimator, insurance adjuster, or construction professional
Xactimate estimating proficiency
Understanding of current building codes and best building practices
Personable and sales-oriented
Clean driving record and current local driver license
Strong spoken and written English.
Pass a pre-employment drug screen and a background check
Helpful Skills:
Certification in EPA lead-paint renovation and/or IICRC water damage restoration.
Benefits:
Generous salary is dependent on experience
Company Truck, Mobile Phone, Laptop
Health, Dental, Vision, Life Insurance
AFLAC, Flexible Savings Account (FSA)
401(k)
Bonuses, Profit Sharing!
Contact:
Send resumes and application requests to hannah.gonzalez@pdxcs.com.
Safety Management Consultant – Eugene, Ore.
Local Agency Assistant – Portland, Ore.
Ready Mix Sales Manager – Bend, Ore.
Admission and Apprenticeship Assistant – Portland, Ore.
Human Resources Specialist and Accounting Support – Portland, Ore.
Construction Engineer – Portland, Ore.
Project Manager – Tigard, Ore.
Welder/Fabricator – Hillsboro, Ore.
Helper Welder/Fabricator – Hillsboro, Ore.
Project Estimator (Landscape Construction) – Hillsboro, Ore.
HVAC Craft Instructor – Portland, Ore.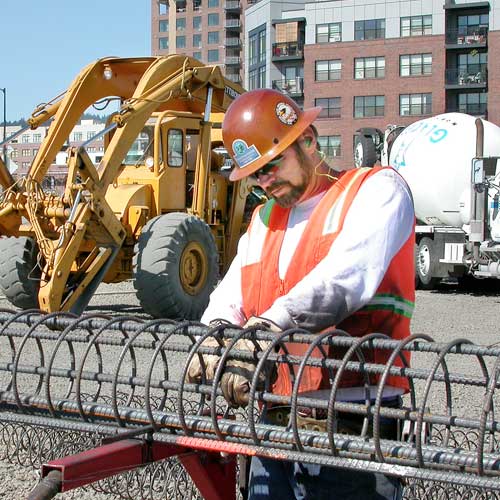 Chapter members and partnering organizations are welcome to post construction-related job openings free of charge.
Job postings must be concise and include valid contact information.
If you wish to have a position posted, please provide the following information:
Title of Position
Position Location
Description/Summary of Position
Education/Skill Requirements
Contact Person
Contact Information (fax, email, mailing address, etc.)
AGC Oregon-Columbia Chapter will not receive resumes and/or applications on behalf of member companies utilizing this service. AGC Oregon-Columbia Chapter will not perform background checks on applicants applying for jobs, nor on employers posting job opportunities. Employers and applicants are urged to request reference information from each other as needed to establish qualifications, credentials, etc. All job listings are posted at the discretion of the AGC Oregon-Columbia Chapter. Job postings that appear to discriminate against applicants due to race, color, religion, creed, age, national origin, veteran status, sexual orientation, disability or gender will be refused. AGC Oregon-Columbia Chapter makes no particular recommendations regarding employers and makes no representations or guarantees about the positions posted. The AGC Oregon-Columbia Chapter is not responsible for the safety, wages, working conditions, or any other aspect of those companies posting job opportunities on the chapter website.
The AGC Oregon-Columbia Chapter will not accept resumes/applications for any of the positions listed here. Please contact the individual member company with any questions you may have relative to the position sought.
Experience the many benefits of membership with AGC…contact us today!