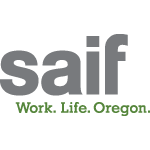 The Associated General Contractors Oregon-Columbia Chapter (AGC) and SAIF announced today a $1,474,314 retrospective return for the 619 companies who participated in the AGC/SAIF group workers' compensation program during 2020–2021. This represents a 4.6 percent return of paid premiums during the policy year. These dollars highlight each company's commitment to safety, reducing injuries, and getting people back to work.
While we celebrate this return, and another successful year for AGC members in the workers' comp retro return program, we want to acknowledge a continued commitment to preventing serious injuries. Our goal is to have all workers go home each night, free of injury or illness.
The ongoing success of this program relies on the strong partnerships between participating members, their employees, AGC and SAIF staff, and independent insurance agents. The retro return is based on the safety performance of all group members, so it is truly a team effort. Employers in the program make investments and commitments to safety and training; employees utilize safe work practices and behaviors as they perform the work; and industry professionals from SAIF, AGC, and agent brokers work diligently to train and educate, manage claims costs, and help injured workers get back to work.
This coming year, we will bring renewed focus and expectations to strengthening safety cultures, a commitment to return-to-work programs, and achieving better overall well-being in the workplace.
About AGC
For nearly 100 years, the AGC Oregon-Columbia Chapter has been the premier professional association for contractors in Oregon and SW Washington, representing the best of the best in commercial construction. Together we're setting the bar for quality and safety. We're committed to enhancing the performance of our members, representing their interests, and building a better climate for construction.
About SAIF
SAIF is Oregon's not-for-profit workers' compensation insurance company. Since 1914, we've been taking care of injured workers, helping people get back to work, and striving to make Oregon the safest and healthiest place to work. For more information, visit the About SAIF page on saif.com.