November 8–9, 2021
Washington, DC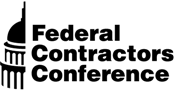 This conference will provide attendees with face-to-face interactions with members of several federal agencies, generating a candid dialogue about direct business impacts happening in real-time. Join construction industry leaders and their federal agency counterparts and take advantage of such essential information and the many networking opportunities.
AGC of America hosted eight virtual live presentations with some significant federal agencies that procure construction services throughout June and July—providing you with a first-hand look into their 2021 and 2022 Fiscal Year project forecasts. The initial sessions were recorded and are available "on-demand" to everyone who registers for the Part 1 portion in addition to the second part.
Cost: $525 for members, $685 for non-members. A student discount is available.