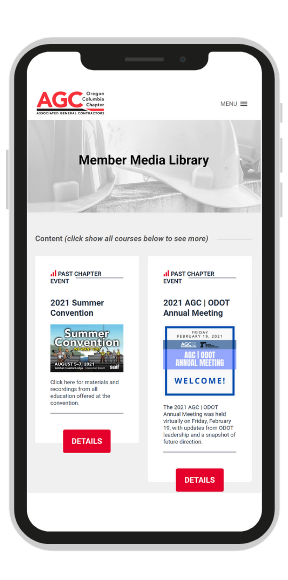 Did you know as a member you have access to recordings of past events? Our Member Media Library is a hub for recordings, PowerPoints, and more! You can find recordings from Summer Conventions and Annual Business Meetings using your same login as the AGC website.
You can access the content by following these steps:
Click here to visit the platform.
Log in using the same credentials you use on the AGC website (username is your email).
If you are having trouble accessing the platform, please click here to reset your password for both your member portal and the platform. Then use the link above (in red) to log in.
Some topics include:
2021 Summer Convention Keynote: Welcome to Management: How to Grow from a Top Performer to Excellent Leader – Ryan Hawk
2021 Summer Convention Breakout Session: Cyber Risk: How Well is Your Company Prepared for a Cyber Breach? – Gregor Hodgson, Parker, Smith & Feek and Kris Anderson, Andersen Construction
Safety & Health Council Event: The Changing Landscape of Workplace Drug Testing – Jana Wolfgang, Northwest Drug-Safe, LLC
Associates Council Event: Mental Health Awareness and Suicide Prevention in the Construction Industry – Mandi Kime, AGC of Washington and Steve Frost, Howard S. Wright
Check out the Member Media Library today!
Questions? Contact Coral Genochio or Heidi Peterson: